It's confirmed! CDRS International will be travelling to Cambodia in mid-February, 2024 to build a playground. The site of the playground is in Thbong Khmom Province - Ou Reang Ov District.
Our mission statement is "Making a difference in the lives of others through donations and fund-raising, to provide recreational apparatus, educational material and/or services for youth in countries less fortunate" .
Since our last build in 2018, even with the 'COVID shut-down', we've managed to procure playgrounds and large quantities of other donations. Thanks to St. Pius Catholic School and Assumption Catholic School (Oyen), we will be building our biggest playground yet on the proposed site. Thanks to Calder, Carlisle, Dunluce, Evansdale and Lorelei Beaumaris Community Leagues as well as St. Lucy Catholic School we will also be taking sports equipment and uniforms as well as toys, games and school supplies. Thanks to many other individual donors, we are going to be putting smiles on many children's faces with toys and educational supplies.
This playground and the quantity of donations is so large that we are going to have to send two seacans at the end of December, 2023 in order to arrive in Cambodia on time. As a result, our expenses have sky-rocketed so we are really counting on everyone supporting our Silent Auction on November 25th at Caernaervon Hall. ( See Below )
THANK YOU
The CDRS International would like to thank everyone who
either attended our Silent Auction or provided auction items for this function.
Your continued support for this and for our previous events over the past
12 plus years has been very much appreciated.
Also a big thank you to the Cambodian Contingency who were in attendance
and for making such a thoughtful monetary donation to the group.
The donations and proceeds from the Silent Auction will help cover the costs
of shipping the 2 containers of playground equipment as well as allowing us
to purchase some of the required tools needed to erect the playground in Cambodia.
CDRS International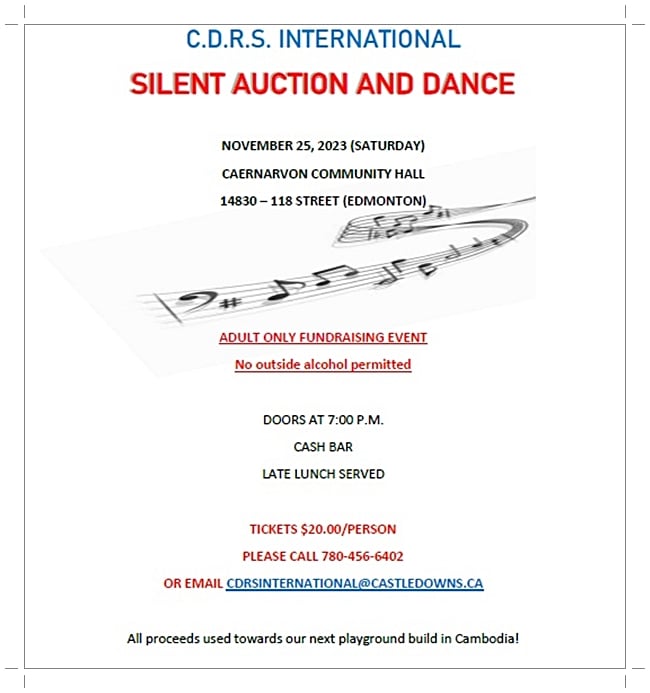 Your support is greatly appreciated!
Thank-you
BELOW ARE A FEW IMAGES OF THE
PROPOSED BUILD SITE,
OF THE SANDING BEE FROM JUNE,
AS WELL AS A FEW
PICTURES OF THE
PLAYGROUND
STORAGE PRIOR TO BEING LOADED